Ontario's best wedding limo service
Brother Limousine believes that your wedding day should be a lot of fun. You have spent hours planning and stressing over wedding arrangements—it is time to put all that behind and make merry with those who you want to share this special day with.
With several years of serving brides all across Ontario and surrounding areas, Brothers Limousine has earned an outstanding reputation of serving first-class, professional wedding transportation at attractive package rates.
Splendid, stately and very upscale—wedding limos that match your style
Our Stretch Limousine mirrors class and high luxury. With seating for up to 40 passengers in the rear, the wedding limousine will overawe even the most discerning car aficionados. With a TV, CD player, air conditioning, plush interiors, impressive interior lighting modes, classy bar and much more, what a fabulous way to begin your life together!
Care for something more private and cozy—just for the two of you? Our Bentley Classic will fit in only three passengers. Its classic, typical front grill and bold exterior makes it a point of focus in all your wedding photos.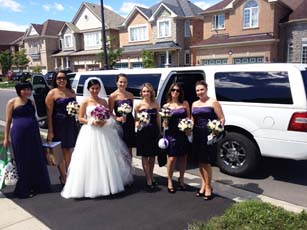 Ever wondered why more and more people are opting to hire wedding limousine services these days? The two main reasons are convenience and luxury. Going for a limousine service in Toronto, Milton, Waterloo or Niagara or anywhere else in Ontario for that matter, means that there will be no more confusion regarding who drives who, where. We all know that even the best laid transportation plans can go haywire or be changed at the last minute causing chaos. With your own wedding limo this will never be a problem. Confusion and Chaos is definitely not something you want to deal with on your wedding day. This is why it is important to have your own wedding limousine at your service on the big day. Planning a wedding can be hard enough. There can be so many details that need to be worked out. In such a scenario having to worry about transportation can be a real distraction. When you decide to hire a limousine service all that is required is to make a phone call and they will pick you up from your home. Apart from convenience the next reason to choose a wedding limo is comfort. Limousines are designed for one thing and that is luxury. And that brings us to the next thing to keep in mind which is the types of cars used in limousine service.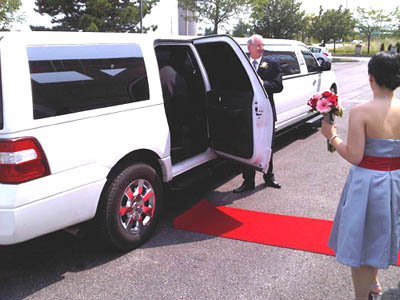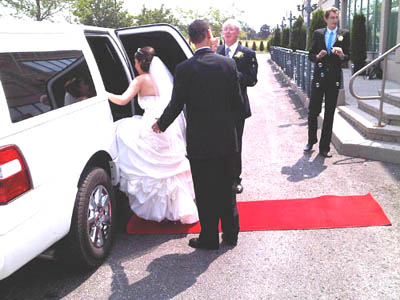 On your wedding day, you are the superstar.
Every couple has fond memories of the day they walked down the aisle. You deserve more than just wine and cake on your wedding day—you deserve to feel distinguished and be pampered. There is no feeling like the experience of being whisked away to that enchanting happily-ever-after place, and our team at Brothers Limousine will add to your wedding day by creating an ever-lasting, enthralling impression on everyone present.
Wedding days are filled with excitement and joy. Amidst the flurry of activity, we provide you with a tranquil, magical journey through the momentous events that lead to your wedding ceremony. Following the spell-binding first kiss as man and wife, as you make your way past your happy and ecstatic family and guests, you find your luxurious wedding limo bedecked and welcoming.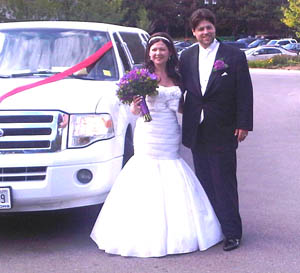 No one can keep their eyes off the sun glistening on the lustrous, polished surfaces of the elegant stretch limousine parked and waiting for you. Everyone notices the sharply attired chauffeur as he dexterously opens the door, to assist you with your splendid wedding gown as you step in to the luxurious interiors of your wedding limousine.
An Ontario wedding limousine experience that spreads magic dust
As you sink into the comfortable confines of your wedding limo, indulge in your first private moments of togetherness after the ceremony. Loving glances, stolen kisses and warm embraces only mark the dawning of an entirely new chapter in your life. These first moments are yours to live—just the way you want to. Until the time you join the rest of the gang and get the party started.
We are fully aware of the several nitty-gritties that go into making your wedding day the perfect one that you desire. Put your trust in Brothers Limousine, and we will take care of providing attentive and dependable wedding limo services that ensure that your day is totally free of worries.
Wedding limo packages that are made just for you
We can help personalize wedding packages that suit your requirements—whether you need one wedding limo or transportation for your family and guests. We will ensure everyone gets to the event well in time.
Here's what comes as a part of the wedding limo package deal.
• Professionally attired, licensed chauffeur
• Red carpet welcome
• "JUST MARRIED" sign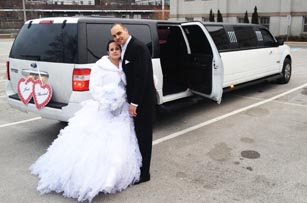 • Complimentary bottle of champagne on ice
• Refreshments like water and soft drinks
Here's how you can get the best out of your wedding limo service
• Book your wedding limo at least six months in advance
• Give your wedding party or your entourage a ride—they deserve it, they've worked hard too.
• Arrange transportation for out-of-town guests. Limo buses are great for everyone to travel and have fun together.
• Add 15-minutes of back-up time for each trip for unaccountable delays
• Do up a play-list of your favorite tunes to play in your wedding limo
• When the red carpet is rolled out, have them play "Here Comes The Bride" and watch everyone swoon!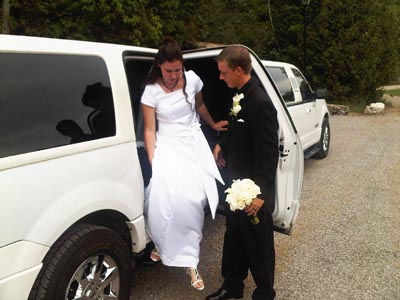 When looking for limo service in Ontario area see what type of automobiles will be used. Before signing make sure it is clear what type of service you are getting. Most limousine services will charge a 20 percent gratuity for the driver. Another matter to look into is to find out if the company is a very busy one. If it is, then make sure that they will be able to deliver on their promise on time. A busy limo service company may be strained to arrive on time on the right day. If possible it is always better to go with one that is not too busy. As far as booking is concerned it all depends on the type of car you want. In the Toronto, Milton, Waterloo, Niagara and Brampton areas the average time to book is anywhere between 3 to 6 months in advance. However, if you were to go with a premium luxury car such as the Rolls Royce, booking up to 8 months in advance is not unusual. The bottom line is that hiring a limo for the wedding is by far the easiest and most convenient way to take care of your transportation needs. Serving cities : Milton limo, Oakville limo, Mississauga limo, Brampton limo, Toronto limo, Waterloo Limo, Kitchener Limo, Orangeville limo, Cambridge Limo, Niagara Falls Limo, Georgetown Limo, Guelph Limo, Vaughan limo, Woodbridge limo, Campbellville limo etc..
Perfect weddings with wedding limo rental service

Wedding planning for one's boss may not be a common entry in an assistant's to-do list, but here I was, staring at the bright red flagged entry in my calendar. It had been just a few weeks since I had moved from our Toronto headquarters to assist our new Executive Director who was based in Milton, Ontario. Though life was less hectic for me in Milton, I did spend a lot of time on the roads, travelling to towns nearby like Oakville, Burlington, Mississauga, Cambridge, Guelph and Brampton, following my boss as he made his way to his meetings. The added responsibilities could have proved to be extremely stressful however, the fabulous Milton corporate limo rental services, made traveling across all these cities a breeze.

My boss was getting married to his old school sweetheart. I wanted to make their wedding a truly special day. I knew all eyes would be on them, and that every single thing they did would be noted by all present at the wedding—from the smallest tear drop at the corner of the bride's eyes to the emotional goodbye as she waved her hand while leaving the wedding venue. And that was when it struck a bell in my brain—to hire a wedding limousine for the bride and groom, and several others for the entire wedding party so that traveling from one destination to another could be easy and comfortable. And of course, an exotic wedding limousine would be the perfect mark of true luxury and elegance as well as a symbol of affluence as the couple arrived at the venue and knowing that everyone's eyes will be on the newlyweds, it just had to be done.

I wanted everything to be perfect on this momentous occasion, so l wanted to make sure that all arrangements were carefully thought of and with every little detail in its proper place, right from the bride's delicate lace veil to the wedding limo which would be their first ride as a married couple. I knew that it was important to rely on noteworthy limousine Hire Company to make arrangements for the limousine because the tiniest detail out of place could spell the difference between perfection and disaster. I was faced with so many decisions to make—from whether it should be a black or white stretch limo to the number of guests to invite.

I contacted our corporate limo hire company for more details and their questions were a great help in actually planning out the entire wedding event. For starters, I wanted to book limousines for the entire bridal party. I had with me a list of everyone who would be present at the wedding, and was able to decide the number of limos to hire. When it came to selecting the wedding limo for the bride and groom, there are a number of looks to choose from. The classic black and the retro white limousines were the most popular options, but I selected the black stretch limo knowing that it would set off the ivory of the brides wedding gown.

Photographs are known to speak a thousand words and there was no better way to convey a truly jubilant couple than a picture set against the shining elegance of a finely decorated wedding car. The limousine came with an entertainment system on board and even a complete mini bar with champagne for the guests set up on board. The staffs at the limo hire company were very helpful and they showed me photos of the limo so that I knew what to expect. They also promised me to show me the actual vehicle as it got closer to the date of the wedding. I also was told that I could also meet the chauffeur and tell him exactly what I was expecting out of the service.

For the wedding party, I booked three limo stretches, knowing that friends and family could travel together and have a good time in these comfortable Limos. There would also be less confusion of out of town visitors getting lost or delayed in traffic.

I knew that nothing would give my boss as much pleasure as seeing the love of his life smiling ear to ear during and after the wedding ceremony. I could just imagine the pleasure it will give him when he watches his bride-to-be step out of the classy black stretched limo, in her equally lovely ivory wedding dress.

It was such a relief to complete the wedding limo booking process. Now that the major part of making travel and logistics arrangements was complete, I could concentrate on smaller details like flowers, finding a caterer, finalizing the design for the wedding invites and all the other million tasks that go into planning out a wedding—one that will always be remembered by everyone present.

We cover wedding limo services in the following areas and more.
Acton Limo, Ajax Limo, Aurora Limo, Barrie Limo, Brantford limo, Brampton limo, Burlington Limo, Buffalo Limo, Cambridge Limo, Campbellville limo, Chatham Limo Service, Calgary Limo, Etobicoke Limo, Edmonton Limo, Georgetown Limo, Guelph Limo, Halton Limo, Grimsby limo, Hamilton City Limo, Kingston Limo, King City Limo, Kitchener Limo, London Limo, Milton limo, Markham City Limo, Mississauga limo, Montreal Limo, North Bay limo, Niagara Falls Limo, Oakville limo, Orangeville limo, Richmond hill Limo, Sarnia Limo, Scarborough Limo, Stratford Limo, Toronto limo, Thornhill Limo, Vaughan limo, Vancouver Limo, Windsor City Limo, Woodbridge limo, Whitby Limo, Wasaga Beach Limo, Waterloo Limo and more.
Call us today to get an instant quote on our wedding limo packages.