Brothers Limousine service offers the best limo service in Sarnia.
The City of sunny Sarnia beckons you, with its sparkling sapphire silver waters, glorious weather and warm hospitality—making it the perfect spot for your vacation or stay. Situated on the south shore of Lake Huron at the headwaters of the St. Clair River right across the state of Michigan in United States of America, this city is around 290 Kilometres from Toronto, ON , Canada. Noted for its absolutely awesome water and charming waterfront parks, Sarnia is Ontario's main gateways to the United States and is around an hours distance from North East Detroit. So, if you are a visitor, and want to enjoy the best that both countries, the United States of America and Canada has to offer, Sarnia is a great place to begin.
Sarnia is surely a small and cosy destination, but for its visitors, it offers all the amenities that a larger, more commercial city would offer.The city was called "The Rapids" to begin with, and was renamed as Port Sarnia in 1836 by Sir John and then again as the City of Sarnia on January 1, 1991. A town that is progressive and vibrant, Sarnia has shown exceptional growth in the areas of commercial and sports.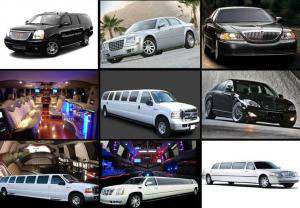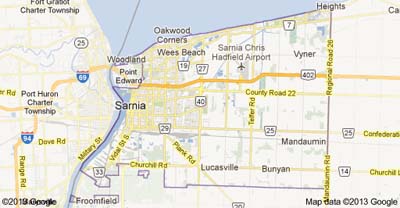 Getting around in Sarnia is a breeze
To say that this is one of the easiest cities in the country to get around would be an understatement. Sarnia's north-south and east-west roadway grid makes facilitates ground travel to any section of the City and you never need to fear getting lost.
The merriest sight-seeing tours in Sarnia
Get around Sarnia in a fine limousine and discover its Hiawatha Horse Park and slots and the Point Edward Charity Casino. Brothers Limousine offers the best casino limo service in town—let go of your inhibitions and enjoy a fabulous night-out in town with our professional chauffeurs behind the wheel. Take a leisurely drive to The Imperial Theatre which offers a range of fun-filled entertainment with local musician's performances, professional entertainers and live theatre all through the year. Have your chauffeur take a spin around what is irrefutably Canada's finest waterfronts of Lake Huron and the St. Clair River.
We also arrange exhilarating tours to Niagara Falls. Our courteous chauffeurs provide detailed information of the shot-spots in the region, and also take you to the sights that you absolutely should not miss. Relish the fine local cuisine at some of the famous restaurants in the region or take off for a wine-tour. Views of the Niagara on the Lake, the Floral Clock, the dam or trips to the splendid casinos in the region—you request and we oblige. Try a boat ride and check out the view behind the falls. All you need to remember is to bring along your camera to capture all the sights you see. There is so much to do when you are in Sarnia, and Brothers Limousine ensures you make the best of your time here.
Professional corporate limos and airport transfers in Sarnia
Only the best private airport transfer service that you can absolutely rely on to all the airports in the area, that is Lester B. Pearson International Airport in Toronto, the Buffalo Niagara International Airport in Buffalo or New York airports—JFK, LaGuardia and Newark. At Brothers Limousine, we are pretty much familiar with the corporate scene. We understand that as the decision maker, you seek corporate limo service that is extremely discreet, efficient and present when you need to be on the move.
Wedding limo service that never fails to move
Weddings are an emotional time. We understand that. Our wedding limo service allows you to experience the closest bonding with your near and dear. We have been trusted to chauffeur brides and bride grooms with precision and tact. We never leave anything to chance.
Our professionally groomed chauffeurs realise the importance for getting down to the finest of details—only the most gleaming luxurious vehicles for you. Choose from our superbly maintained fleet of vehicles that range from stretch limos, luxurious sedans, town cars and even limo buses to transport the entire entourage.
Prom limos that impress
Brothers Limousine can be counted on to impress all of your classmates at your special prom night. Our Stretch Hummer Limousines are just perfect for you and all your closest friends—for all twenty of you. Now, isn't that economical as well as fun? Aside the space, the Hummer stretch limo is also equipped with funky accessories that ensure that the party begins right en route to the prom venue. Get your play list and make the most of the ride, and take plenty of photos to freeze the memories forever.
Smooth rides on your special occasions
Brothers Limousines promise to make your special event only more special by transporting you in one of our late model, luxury limousines.
No matter what your event is, we have the ride—Valentine's Day limo service, New Year eves limo rental service, Christmas light tours, birthday limos or wedding anniversary limos, Brothers Limousines can enhance your occasion.
From the moment your personal chauffeur greets you and escorts you into an immaculately presented Brothers Limousine, you are aware that your special event is off to a memorable start.
Call us today to get a quote.
Serving neighbouring cities like Brantford Limo , Milton limo, Brant Limo ,Mississauga limo,Brampton limo,Oakville limo,Toronto limo,Waterloo limo,Cambridge limo,Orangeville limo,Guelph limo,Buffalo limo,Burlington limo, Campbellville limo ,Vaughan limo,Rockwood limo,Chatham limo etc...