A wine tour package is a safe, scenic, and classy way to visit the beautiful vineyards and sample the splendid wines of the Niagara Wine Trail. Select from our fleet of plush luxury limousines and let us provide you with a wine tour package specifically designed to include vineyards of your choice, or browse our selection of pre-packaged tours, arranged to include some of our favourite wineries. We are located in the heart of Ontario's wine country, just 40 miles from Toronto and 55 miles from Niagara Falls and Ontario. Our wine tour limousine service, complete with friendly and knowledgeable chauffeur, is an excellent introduction to the many and varied vineyards and vintages of the Niagara wineries. We can accommodate groups of any size, and our fleet of deluxe limos offers endless choices of style and decor, so you can set just the right tone for your festive wine tour package.
Ontario's best Niagara Wine tours
Niagara wine tours—the perfect time to indulge in the quaint old-word country charm and visit some of the celebrated wineries that are set along the shores of Lake Ontario on the historic Niagara-on-the-Lake. Custom wine tours with Brothers Limousine are amongst the most leisurely and relaxing things to do when you are in the Ontario region. Take one of the wine tours in Niagara-on-the-Lake and get a fantastic tour of the regions gorgeous vineyards in one of our sleek and comfortable limousines.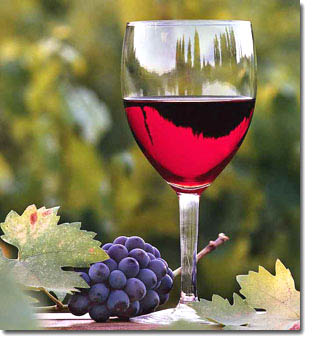 Limousine Wine Tour Special
6 to 8 Passengers Niagara Falls Tour, Niagara on the lake,
2 wine Tours , 3 Wine Tasting on Lincoln Stretch Limo
for $ $ 125 / passenger ( minimum 6 passengers)
9 to 14 Passengers Niagara Falls Tour, Niagara on the lake,
2 wine Tours , 3 Wine Tasting on SUV Stretch Limo
for $ $ 135 / passenger ( minimum 10 passengers)
15to 24 Passengers Niagara Falls Tour, Niagara on the lake,
2 wine Tours , 4 Wine Tasting on Limo Bus
for $ $ 125 / passenger ( minimum 18 passengers)

( We make the reservations on behalf of customer for wine tour , wine tasting
& dinner reservation - some conditions apply please call / email for more information )
Why do we love Niagara wine tours?
Wine tours promise you more than a breath of fresh air—it wows you with the many precious moments that you spend amidst the vast and seemingly unending landscapes of vineyards and orchards. Stretching right from the picturesque Niagara River Parkway all the down to the shores of Lake Ontario you will find wineries that range from smaller, more private, family owned operations to ones which boast of large state-of-the-art facilities. As you drive through the scenic driveway that is the Niagara River Parkway, you enjoy stunning views of the Niagara Falls. Called the prettiest drive in the whole of Canada by Sir Winston Churchill, The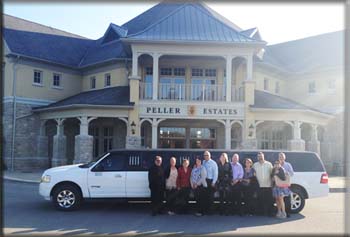 Niagara River Parkway embraces the River Niagara for 55 km.
What could beat the most scenic views of some of the best vineyards in the country, let alone a day of wine tasting while driving through in a plush, chauffeured limousine? Custom wine tours in Niagara Wine County combine the two—in a fun and relaxing atmosphere.
Located only at an hour and a half's drive from Toronto and around 30-minutes from Buffalo, Niagara-on-the-Lake consist of 27 wineries that are clustered in several acres of land that stretches all the way to Grimsby.
Some of the best wines come from the award winning Niagara vineyards. If you are a fan of wine tasting and wine in general, the Niagara wine tours that we provide are fantastic—and also gives you a chance to savor the regions finest cuisine. Bask in the luxury all day, talking with the growers and sampling their wines. Most vineyards offer free wine tasting—could you imagine buying a dress without trying it on?
Niagara wineries are recognized around the world for the rich and exquisite character of their wines, born of a unique micro-climate blessed with fossil-rich limestone soil and excellent growing conditions. Let us escort you through the peaceful countryside of the lovely Niagara Escarpment on a luxurious wine tour limo, stopping along the way at a variety of vineyards, from small family boutique wineries to magnificent mansions set among acres of vines. Each vineyard is unique in its crop and distilling process, and each offers the delicious camaraderie of a wine tasting experience. While sampling wines, you'll make new friends and learn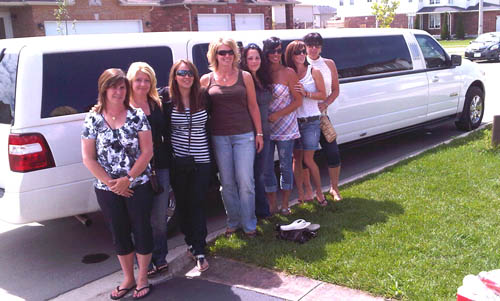 to compare the complexity and characteristics of different wines, both within a single vineyard and among the group of wineries on your itinerary. Fruit wines, grape wines, organic wines, and European-style wines are among the offerings along the Niagara Wine Trail, where you can sample special reserves, rare vintages, and new products in cherry-clad bars, friendly farm houses, or while strolling gorgeous fields of grapevines. Let our wine tour limousine service escort you to the wine-lovers' paradise of Niagara-on-the-Lake, a charming community of 26 vineyards below the Escarpment that stretches out to Lake Ontario, encompassing some of the most beautiful countryside in the area, and some of its best wines. Wineries love a party, so hop into a wine tour limo and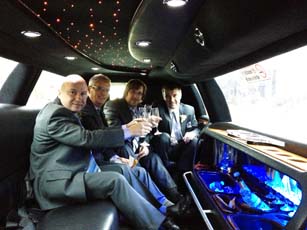 head off to September's Niagara Wine Festival, or April's Cool Climate Chardonnay Celebration, or any of the tons of festivals, large and small that have earned Niagara wineries their reputation as a fun and festive vacation destination.
Customized Niagara Wine Tour Packages
We provide customized Niagara Wine Tour packages that are formed to fit your schedule and desires. Should you choose to dine with a gourmet picnic treat in the beautiful outdoors at one of the lush winery spots during the day or you'd rather have us reserve your table at one of the famed restaurants in the Wine County—we will take care of it for you.
We can accommodate all your needs with our fleet of deluxe limos, SUV's and limo buses—whether you plan to enjoy a romantic getaway with your partner or as a large corporate group.
Get the inside knowledge
With our years of service, we have developed close ties with the owners of Niagara Wineries. Ask to see everything at the vineyards you take custom wine tours on Niagara, and make the most of our knowledge of the region. Allow our experts take you down the paths lesser tread in Niagara Wine County.
Do Call Ahead of Time: Niagara Wine Tours are a hot commodity—especially around wedding season so do call ahead in time. Then let Brother Limousine do the rest.
Do Plan to Enjoy the Festivities: There's all year-round fun in the Niagara Wine County. Plan early to join the fun in the regions festivals.
The Niagara Wine Festival is celebrated annually in autumn. With over 100 events that feature wine tasting at Niagara Vineyards, authentic Niagara cuisine, artisan shows, concerts and tons of family entertainment.
Another great don't-miss is the Niagara Ice-wine Festival that's held in January. This celebrates Ontario's famous ice wine in a fabulous winter wonderland setting.
The Niagara New Vintage Festival that's celebrated in summer gives you an opportunity to be first to try of the year's wines.
Don't You Worry About A Thing: Brothers Limousine Wine Tours will assist you in setting custom wine tours on Niagara-on-the-Lake, so all you need to do is to focus on having a grand time.
We provide Niagara Wine Tours in the following areas and more.
Acton Limo, Ajax Limo, Aurora Limo, Barrie Limo, Brantford limo, Brampton limo, Burlington Limo, Buffalo Limo, Cambridge Limo, Campbellville limo, Chatham Limo Service, Calgary Limo, Etobicoke Limo, Edmonton Limo, Georgetown Limo, Guelph Limo, Halton Limo, Grimsby limo, Hamilton City Limo, Kingston Limo, King City Limo, Kitchener Limo, London Limo, Milton limo, Markham City Limo, Mississauga limo, Montreal Limo, North Bay limo, Niagara Falls Limo, Oakville limo, Orangeville limo, Richmond hill Limo, Sarnia Limo, Scarborough Limo, Stratford Limo, Toronto limo, Thornhill Limo, Vaughan limo, Vancouver Limo, Windsor City Limo, Woodbridge limo, Whitby Limo, Wasaga Beach Limo, Waterloo Limo and more.
Call us today to get an instant quote on our Niagara Wine Tour packages.416 271 5784 or Toll Free 1866 516 2590