Taking A Limousine To The Prom Is Your Best Bet

A high school prom is an epic event in a young man or woman's life that is sure to be remembered for a very long time. The prom is the social apex of a junior or senior year, as millions of young adults around the country anxiously await the opportunity to show off their best of clothing, hair style and dance moves. For an exclusive and unforgettable prom experience that boasts of class and style, renting a limousine is the only way to go. Many potential prom attendees save up their allowances for months in advance, knowing that prom is a time to go all-out and spare no expense while packing as much fun as possible into one magical evening. Our fleet of limousines provides kids with a bevy of options, from a sleek and traditional black model to a massive and powerful all white stretch Hummer H2 that is guaranteed to garner the attention of everyone within its path. Our fleet offers spacious and vibrant accommodations that will help to get the party started long before the guests arrive at their destination.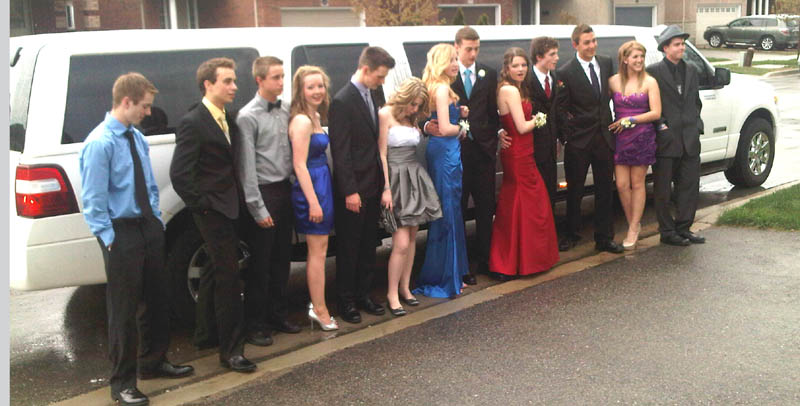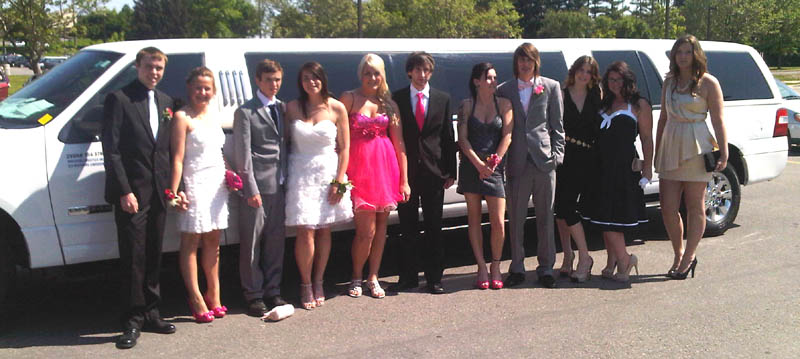 We've collected hundreds of pictures of prom-goers enjoying our modern and styling limousines over the years and in every instance the smiles are from ear to ear. Nothing kicks off a memorable evening of carefree fun and youthful exuberance like a ride that makes everyone feel like a superstar. Guests that arrive to a prom in a limousine are sure to be the center of attention and admiration for the rest of the attendees. It is a status symbol that won't soon fade away for a person in their teens.
Taking a date to the prom allows a teenager to have a glimpse of grown-up life and its many freedoms and responsibilities. No matter how confident and expressive a young person is, common sense and practicality prevents them from wearing a shiny purple pimp suit with a wooden cane to school, but many jump at the opportunity to do so while attending the prom. Riding to the prom in a limousine will allow couples to relax and focus on having fun.
Renting a limousine for a prom can also provide nervous parents with peace of mind in knowing that a responsible adult will be chauffeuring their kids around. Parents sometimes feel compelled to toss the keys of their best automobiles to their sons or daughter's on prom night, but the high energy aura and sensory overload of the evening is often a bad match for an inexperienced driver looking to impress the opposite sex. Hiring a limousine service can eliminate many of the potential dangers that await kids on their prom night.
Sensational prom nights with Prom limo services

Watching my young sister get all excited about her prom night took me back a few years when I was a teenager. I was filled with a sense of déjà vu as I remember my prom night, which had been an extremely exciting evening—one that I cannot stop thinking about, and had vivid memories about. Since we had graduated, my friends and I thought of living it up and make our prom night the most eventful night of our life. We even got together and hired the best possible prom limo hire company in all of Toronto. It's a known fact that for transportation in and around Toronto, limousine hiring is the choice of most people and for events like the prom that happen only once in a student's life, nothing beats like showing up in a prom limo.
As the days lead up to the prom night, the air is filled with emotions and different expectations. My friends and I began making preparations long before the special day. We even began saving money months before so that we could turn up on the day in style. For us, prom was not only about pink gowns and cool hair-do's—it was about having a memorable time with friends and dancing the night away under the glitter of hundreds of colourful lights, it was about doing things that everyone would remember for ever.

There were so many special arrangements and preparations that we had planned for our prom party, and top on our list was to hire luxury transportation for traveling to the venue. We decided to hire our limousine well in advance, knowing that as it got closer to the date, it would be harder to get the vehicle of our choice. There were a large number of ground transportation companies offering special prom limo packages suiting different budgets. Being students, we were looking for budget friendly means of transportation. Limousine hire companies offered special packages on hourly as well as daily rates. They offered so many services, including airport transfers, limo sightseeing packages, corporate limo services, all around the region including Milton, Oakville, Burlington, Mississauga, Cambridge, Guelph, Brampton and so many other cities.

Though the most economical option was to hire a sedan, it was only good to accommodate a couple. There were then the special prom limousines that included pink cars, decorated with colourful ribbons to give it a festive appearance. We were however hoping to hire a chauffeur driven stretch limousine, which could accommodate 5 couples. We had agreed to share the limo hiring charges. As we were learning more about the prom limo package from the friendly staff, a few of my friends had walked in. Excited to learn that we were hiring a stretch limo, they were keen to join us as well. The officer then suggested that we could hire a stretch SUV limo that could easily seat 18 passengers, which meant nine couples. We were so excited, the more the merrier, the longer the limo, the cooler our entry on the prom night. We had a choice of hiring either a SUV stretch, Lincoln stretch, Hummer H2 or an Escalade ESV. Everyone voted for the SUV stretched limo, and that was what we hired.

Our SUV limousine was not only longer and more spacious than other limos but also came equipped with some funky features and amenities. It featured a fully stocked bar, large flat screen TV, a privacy divider between chauffeur's and passenger's compartment, hi-fi sound system, laser mood lighting, marbled flooring, and so much more. We chose a hot pink hummer stretch limo, so bright that it would have put a flamingo to shame.

When we arrived to the prom night in our limo, we felt like the coolest group of friends on earth. We were surely the talk of the town, when we arrived at the party venue in style and class in a chauffeured limousine. My friends and I were all dressed in the loveliest of shimmery gowns. Our dates were looking dapper in their sharp tuxedos. The only thing which I realised we had forgotten to bring along was a bottle of champagne. But then we realised that there was no reason to panic—our limo was equipped with a bar that had the champagne. The party went on all night until next morning. And the highlight was me being crowned the prom queen. Cameras flashed and I was on top of the world.

Loud squealing and laughing brought me back to the present. My sister's friends had come over and they were planning to go shopping for their dresses. As they were leaving, I suggested they look up prom limo services as well. And that only resulted in more excited whoops, and after a lot of thankful hugs, I escaped up to my room to complete my paper which was due the following week.
Please have a look around our site and contact our friendly staff with any questions you may have. While we can't promise that the DJ will play music that the prom-goers are into, we can assure you that their time spent in our lavish and immaculate limousines will be a very enjoyable experience.Serving cities like Milton limo,Burlington limo,Mississauga limo,Brampton limo,Oakville limo,Toronto limo,Waterloo limo,Cambridge limo,Orangeville limo,Guelph limo,Buffalo limo,Burlington limo, Campbellville limo ,Vaughan limo etc...