Taking A Limousine To The Prom Is Your Best Bet

A high school prom is an epic event in a young man or woman's life that is sure to be remembered for a very long time. The prom is the social apex of a junior or senior year, as millions of young adults around the country anxiously await the opportunity to show off their best of clothing, hair style and dance moves. For an exclusive and unforgettable prom experience that boasts of class and style, renting a limousine is the only way to go. Many potential prom attendees save up their allowances for months in advance, knowing that prom is a time to go all-out and spare no expense while packing as much fun as possible into one magical evening. Our fleet of limousines provides kids with a bevy of options, from a sleek and traditional black model to a massive and powerful all white stretch Hummer H2 that is guaranteed to garner the attention of everyone within its path. Our fleet offers spacious and vibrant accommodations that will help to get the party started long before the guests arrive at their destination.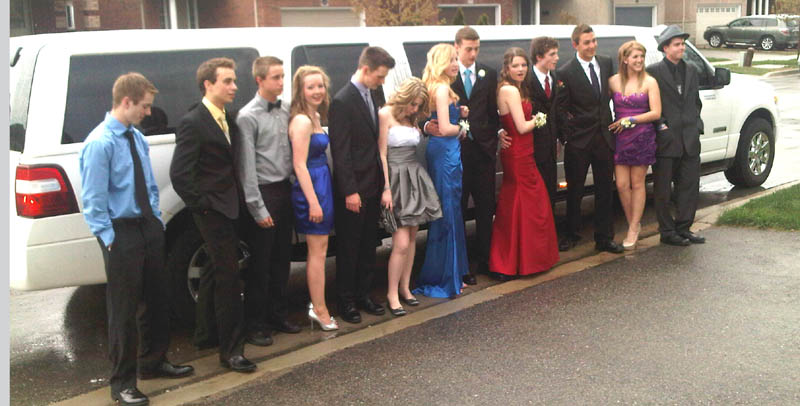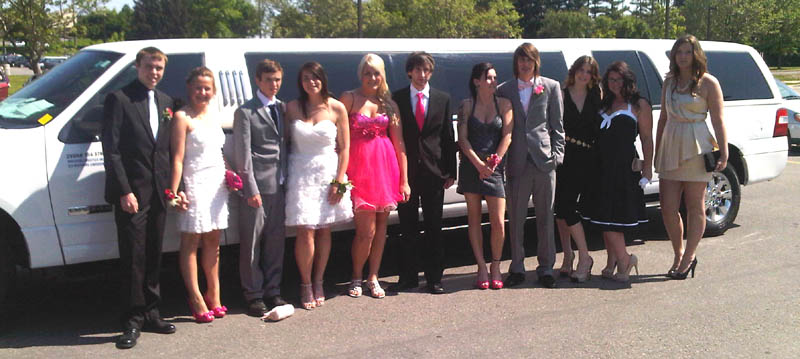 We've collected hundreds of pictures of prom-goers enjoying our modern and styling limousines over the years and in every instance the smiles are from ear to ear. Nothing kicks off a memorable evening of carefree fun and youthful exuberance like a ride that makes everyone feel like a superstar. Guests that arrive to a prom in a limousine are sure to be the center of attention and admiration for the rest of the attendees. It is a status symbol that won't soon fade away for a person in their teens.
Taking a date to the prom allows a teenager to have a glimpse of grown-up life and its many freedoms and responsibilities. No matter how confident and expressive a young person is, common sense and practicality prevents them from wearing a shiny purple pimp suit with a wooden cane to school, but many jump at the opportunity to do so while attending the prom. Riding to the prom in a limousine will allow couples to relax and focus on having fun.
Renting a limousine for a prom can also provide nervous parents with peace of mind in knowing that a responsible adult will be chauffeuring their kids around. Parents sometimes feel compelled to toss the keys of their best automobiles to their sons or daughter's on prom night, but the high energy aura and sensory overload of the evening is often a bad match for an inexperienced driver looking to impress the opposite sex. Hiring a limousine service can eliminate many of the potential dangers that await kids on their prom night.
Please have a look around our site and contact our friendly staff with any questions you may have. While we can't promise that the DJ will play music that the prom-goers are into, we can assure you that their time spent in our lavish and immaculate limousines will be a very enjoyable experience.Serving cities like Milton limo,Burlington limo,Mississauga limo,Brampton limo,Oakville limo,Toronto limo,Waterloo limo,Cambridge limo,Orangeville limo,Guelph limo,Buffalo limo,Burlington limo, Campbellville limo ,Vaughan limo etc...