Brothers Limousine service offers the best wedding limo service and prom limo service in Branford. If you need limo service then Brothers Limousine service is the perfect choice. We will make sure your special event is memorable when you choose our limo service. If you need a ride to or from the airport, then make sure to schedule limo service to pick you up. Our limo service driver will make sure you arrive on time and in style. Our limousine service offers comfortable seating too, so you can sit back and enjoy your ride in your limo. You want to pick the best limo service, so make sure you reserve a ride with our limousine service. Our great Brantford limousine service has numerous styles of limos available, so make sure to browse our fleet and pick the limo that fits your personality and needs. We offer a traditional limo, as well as a wilder, fun stretch Hummer limo,SUV stretch Limo, Limo Bus and much more. Regardless of which limo you pick, you will receive only the best limousine service.

Brantford City is undoubtedly the mecca for fans of hockey, being the birthplace of the legend, "Great One" or Wayne Gretzky and the home to the world's most famous hockey father Walter Gretzky. The famous duo has played a major role in shaping the keen interest for sports in Brantford, which has resulted in the city being bestowed with the title of 'The Tournament Capital of Ontario.' But anyone who has visited this Southern Ontario city would credit the city for offering so much more to their visitors and residents.
It's our service that counts.
With years of experience serving cities in and around the Ontario region, Brothers Limousine is a name that you can trust. In Brantford, you could rely on us all your travel needs, from the moment you land at the airport—be it Pearson airport in Toronto, Buffalo or the New York airports—JFK, LaGuardia and Newark. We will meet you at the designated time and provide airport transport to and from the airport to any destination in Brantford City. Our friendly chauffeurs could also advise you about ways in which you could spend your time in this beautiful city of Brantford. We provide corporate limo services that focus on your business needs, whether you require group transfers or individual trips in Brantford.

Sight-seeing tours that mesmerize
Just a quick hour's drive from Toronto with around 103 KMS separating the two cities, Brantford City rests in its calm spot along the banks that Grand River weaves through. Grand River, which has been named as one of Canada's Heritage Rivers, comes alive with a myriad of opportunities for those who thrive in the outdoors. Canoeing trips through the meandering river, bonding with nature as you kayak and raft through the so called "Exceptional Waters" and perhaps answer to the calls of the rare birds that soar through the skies are just some of the activities that you could begin with.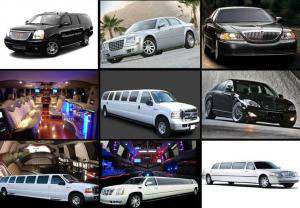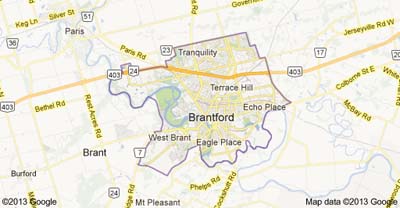 If history and culture intrigues you, come with us and step into the past, at the Bell Homestead, where the inventor of the telephone, Alexander Graham Bell used to reside. The Woodstock Cultural Centre, the Native American Indian centre which provides information about first nation culture. Art lovers never fail to be amazed with the collection at the museums and galleries, one of them being the Glenhyrst Art Gallery set on a sprawling sixteen acre park, which houses artwork and exhibitions throughout the year.
Brantford wedding limo services that is second to none
At brothers Limousine, we understand that your wedding day is one of the most special days in your life. Whatever your wedding day needs may be, we strive to make it an unforgettable day by offering personalised professional service.
Indulge in our luxurious wedding stretch limousines, while we pamper your wedding party with our extravagant services. Our professionally trained and well groomed chauffeurs will be at your service to take care of all your needs on your special day as well as the days that lead up to it.
Our Brantford wedding limo packages don't leave anything to chance and you can rest assured that your groups transportation needs will be met completely.
Brantford prom limo services that spell out style
In Brantford City, proms are a pretty elaborate affair, and riding in one of our Hummer stretch limos, you make an entry that will make your classmates go "WOW." Go get out your prom dress or hire your tuxedo, allow us to take care of the rest for you.
Our friendly chauffeurs well in time to give you and your friends a wonderful time. Don't miss this fabulous photo opportunity on your prom night. Step out in style just as film stars do when they arrive at award ceremonies.
We make sure that the entire group is dropped back home safely, so that parents have peace of mind as well.
Occasions are made special with Brothers limousine
Experience what Brantford City has to offer with Brothers Limousine. You could choose to have a relaxed night-out at any of the city's exciting night clubs and bars where you could relax to a live band or let go on the dance floor. We also provide casino limo service to the fine casinos around Niagara so that you can have a fun time trying out the slots. You go ahead and gamble, dance or shop, and while you are at it, have a great time. When it's time to get back home, we will be there for you—no matter when and where! From wine tours to Niagara Falls trips, all you need to do is to sit back and relax, and leave the task of navigating the roads to us. Our chauffeurs will be glad to show you the unique wineries in the region and enjoy some of its finest wines.
For those days that come only once in a year, leave it to us to come up with a memorable plan. Our Christmas light tours, Valentine's Day limo service and New Year Eves limo rental service are popular with clients in Brantford City.
Call us today to book a special events package that is personalised just the way you want it. While you are in Brantford City, let Brothers Limousine be your designated driver.
Have an upcoming wedding, anniversary, birthday party, prom, or bachelor party? Then book your wedding limo service and prom limo service with us today! We offer only the best wedding limo service and prom limo service, airport limo, night out limo, wine tour limo, Niagara falls limo, Christmas limo, new Year Limo etc etc to our customers. We have lots of experience in wedding limo service and prom limo service, so you know we will take care of you on your special day. You want your wedding limo service and prom limo service to be of the highest quality, so picking Brothers Limousine service will guarantee your drive is up to your standards. Book your Brantford limo service today! Serving cities like Milton limo,Brant,Burford,Echo Place,Eagle Place,Mt Pleasant,Terrace Hill,Mississauga limo,Brampton limo,Oakville limo,Toronto limo,Waterloo limo,Cambridge limo,Orangeville limo,Guelph limo,Buffalo limo,Burlington limo, Campbellville limo ,Vaughan limo,Rockwood limo,Chatham limo,Kingston limo,woodbridge limo,chatham limo,hamilton limo etc...