Brothers Limousine service offers the best wedding limo service and prom limo service in Vaughan, Maple, Woodbridge area.
One of southern Ontario's fastest growing cities, Vaughan is a thriving city that's on its way to being the strongest local economies in the Greater Golden Horseshoe, as it continues to attract new business and investment. Located just 23 miles from Toronto, you can say that Vaughan is at the doorstep of the world's trade and business markets. The fine quality of life that Vaughan offers makes it a great place to call home for its citizens. So what's the best way to revel in this exciting centre that boasts of beautiful views, friendly people and vibrant business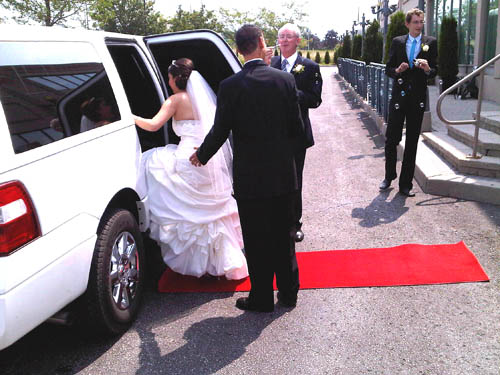 opportunities? Of course, to make best of your time in Vaughan, you travel in and around the city in a limousine, and Brothers Limousine offers you the best in premier limousine services. Brothers limousine service offers comfortable seating too, so you can sit back and enjoy your ride. Brothers limousine service has numerous styles of limos available, so make sure to browse our fleet and pick the limo that fits your personality and your needs. We offer a traditional limo, as well as a wilder, fun stretch Hummer limo, SUV stretch, Limo Bus. Regardless of which limo you pick, you will receive only the best limousine service.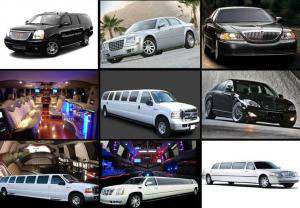 So when you hop off the airplane at Pearson International Airport, hop on to a stylish Lincoln sedan that would whizz you off to Vaughan in the cool confines of luxuriant interiors. Regardless of whether you are attending or hosting a corporate event in Vaughan, or require the car for business meetings, limousines provide a safe, secured, smooth travel and give you the confidence to face a demanding business situation with ease. You are always professional with Brothers Limousine.

By hiring limousine services in Vaughan for your business needs, you can also make most of your downtime and enjoy the local attractions and get some site-seeing done. The best thing about Vaughan is that it is host to lovely park areas; you could drive up to the Kortright Conservation Area, a 325-hectare green space which is home to Canada's largest environmental education centre. Boyd Conservation Area is also nearby, providing access to volleyball, and basketball courts, soccer fields and cross-country running trails. If you seek a bit of thrill, you will enjoy spending time at Canada's Wonderland, a 130-hectare theme park with more than 200 attractions, including 15 roller coasters. How about some retail therapy? Vaughan is also home to the Vaughan Mills Shopping Centre, which contains over 200 retail stores; from factory outlets to concept stores. Enjoy the city sights with Brothers Limousine.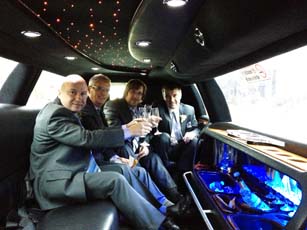 If you want to escape the city, Brother Limousine also offers fabulous wine tours through the Niagara Wine Country where you could be escorted to some of the most amazing wineries in the region. Owing to its location, it is also a great opportunity to explore the Niagara Falls and its picturesque surrounding areas. If you are planning a fun day with your friends at the exciting casinos in the area, getting around could never have been easier. Pile into a swanky stretch limo for a casino tour that's filled with fun and frolic, and perhaps some fine winnings! It's always more fun with Brothers Limousine.
Limo hire in Vaughan is your perfect mate for a night out around the city. Prowl around the city's hotspots and enjoy the night life in your elegant limousine. Stay snazzy with Brothers Limousine!

Beautiful Vaughan brides have been seen making their grand entrance at their weddings. Totally happy and carefree, the bride and the groom are able to savour their time together, as wedding limo services in Vaughan provide impeccable and extremely reliable service. Enjoy togetherness with Brothers Limousine.
Vaughan parents favour prom limo services for their teenagers to enjoy their prom night parties in the city. It is undoubtedly the most awaited event in a high school student's life and to arrive at the party venue with friends in a cool stretch Hummer is indeed a dream come true for them. Limo drivers take care of the spirited teens, while letting them have the time of their life. Be safe, with Brothers Limousine.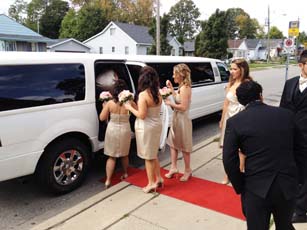 Special occasions are best celebrated with Limo services. Don't miss the Christmas light tours when you are in the city. Vaughan takes pride in the beautification of its public spaces with energy efficient light shows. Brothers Limousine allows you to select your own favourite way of celebrating Valentine's Day with your sweet heart. Could there be a better gift than meeting her in a gorgeous limo and enjoying time together while your chauffeur takes you to your favourite spots in town? It's hard to have a good time when you are not sure how you will get back home after a night of gaiety. Ring in the New Year with New Year's Eve limo rental. Brothers Limousine is second to none.
We offer only the best wedding limo service and prom limo service to our customers. We have lots of experience in wedding limo service and prom limo service, so you know we will take care of you on your special day. You want your wedding limo service and prom limo service to be of the highest quality, so picking Brothers Limousine service will guarantee your drive is up to your standards. Book your limo service today!